ACHI IR-PRO-SC BGA reballing machine main features

1. ACHI-IR-PRO-SC uses advanced dark infrared technology.

2. Without hot air flowing during the reworking, it will not affect the surrounding small components during reworking.

3. It can be connected to computer by RS232 serial port to realize computer control. And it also can be programmable with soft.

4. It can set up 8 rising temperature segments and 8 constant temperature segments to control. It can save 10 groups of temperature curves at one time. Which is enough for most of the using.

5. ACHI IR PRO SC is with sensitive temperature measurement sensor which can obtain an accurate and instantaneous temperature reading and monitoring.

6. It uses closed-loop temperature control ensures accurate temperature process and even heat distribution.

7. It is with linear guide type bracket for BGA Reworks which can be locked and adjusted by rotating its handle, which makes PCB board fixing very easily, and also protect the PCB board from deformation.

8.The maximum temperature of ACHI IR-PRO-SC can be up to 400 degrees, and it can be widely used in both leaded and lead free SMD rework.

ACHI IR-PRO-SC BGA reballing machine technical detailes: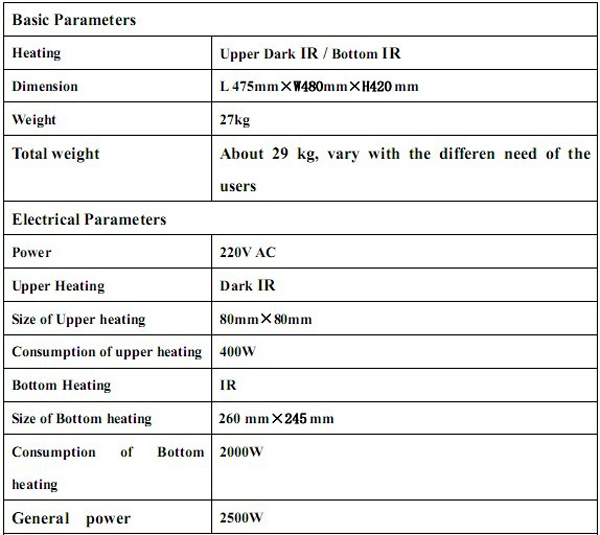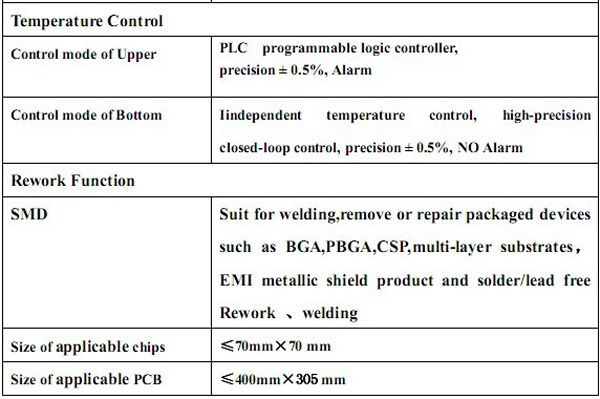 ACHI IR-PRO-SC BGA reballing machine can be widely used in below fields:
1. To repair wiches, graphics cards, shielding enclosures, CPU's seat, components slot and other large circuit boards with large chips up to 70x70mm.

2. To repair CBGA, CCGA, CSP, QFN, MLF, PGA μBGA For CBGA, CCGA, CSP, QFN, MLF, PGA and all green epoxy and other chip-level μBGAs.

3. To do leaded and lead free BGA reworking.

4. To repair notebook PS3, Xbox360, industrial computer, cell phones and to do other SMD soldering and desoldering