ACHI IR6000 low cost BGA rework station, latest version new added USB interface. Main features as below:
1. Advanced dark infrared technology, give more even heat during reworking.

2. New added USB interface, can be connected with computer easily.

3. Closed-loop temperature control

4. Advanced external OMEGA K type thermocouple wire provide accurate temperature detection.

5. Alarming function. When soldering or desoldering will be finished, it will alarm before 3-5 seconds.

6. No hot air during rework process, make even heat and protect the surrounding compnents from damage and deformation.

7. Can store 10 groups of temperature profiles. Two groups already stored for using.

8. Can be controlled by the IRSOFT temperature software.

9. Two temperature zones, work independently, temperature parameters are adjustable and correct per actual need.

10. Can rework BGA chip size large as to 65x65mm
ACHI IR6000 low cost BGA rework station technical detailes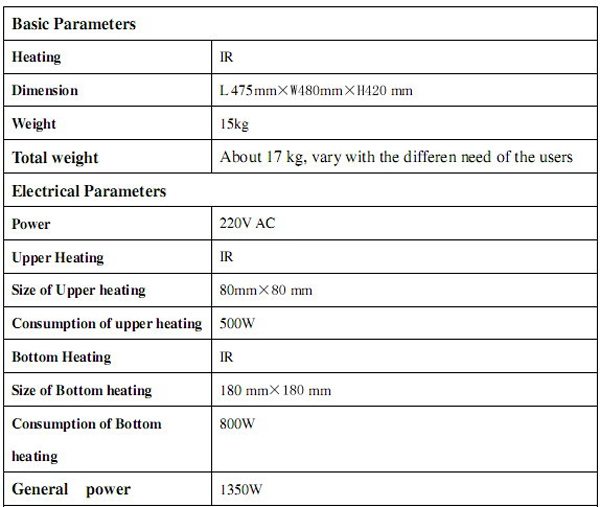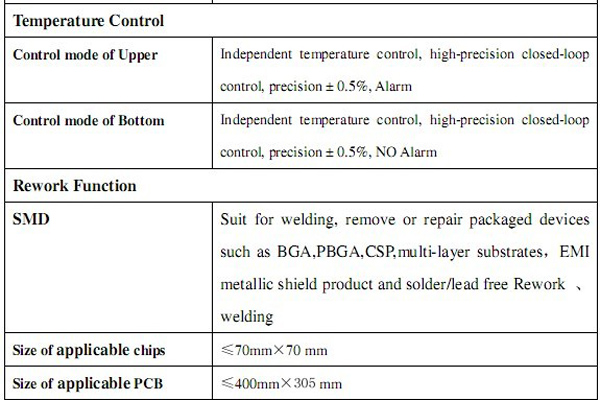 ACHI IR6000 low cost bga machine can be widely used as below:
1. Leaded & lead free BGA rework.
2. It is ideal for soldering desoldering BGA, PBGA, CBGA, CCGA, CSP, QFN, MLF, PGA and all the green epoxy type μBGA.
3. It can repair notebook,desktop, switch and also XBOX360, PS3, cell phones and other area SMD reworking.
4. Can rework multi-layer substrates, EMI metallic shield, plastick socket.